BASIC INFO Production Testing Packaging Cases
Cone rubber fender is an optimized design. It can endure server shear force and increase deflection, high-energy absorption and longer service life.
Cone fender is the latest generation of cell fender, with optimal performance and efficiency. The conical body shape makes cone fenders very stable, even at large compression angles, and provides excellent shear strength.
View testing videos about our cone fender:

Specifications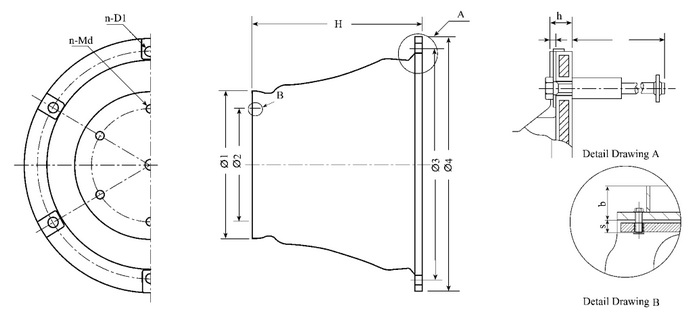 Types
Main dimensions (mm)
H
h
Φ1
Φ2
Φ3
Φ4
n
D1
Md
a
b
s
CONE500
500
25
425
325
675
750
4
30
M24
4
75~95
36
CONE600
600
27
510
390
810
900
6
30
M24
5
90~110
40
CONE700
700
32
595
455
945
1050
6
38
M30
6
105~125
40
CONE800
800
36
680
520
1080
1200
6
44
M36
7
120~140
52
CONE900
900
41
765
585
1215
1350
6
44
M36
8
135~155
55
CONE1000
1000
45
850
650
1350
1500
6
56
M42
8
150~170
65
CONE1100
1100
50
935
715
1485
1650
6
50
M42
8
165~185
65
CONE1150
1150
52
998
750
1550
1725
6
56
M42
10
170~195
70
CONE1200
1200
54
1020
780
1620
1800
8
50
M42
10
180~210
75
CONE1300
1300
59
1105
845
1755
1950
8
60
M48
11
195~225
75
CONE1400
1400
66
1190
930
1890
2100
8
60
M48
12
210~235
70~80
CONE1600
1600
72
1360
1060
2160
2400
8
70
M48
14
270~280
70~80
CONE1800
1800
78
1530
1190
2430
2700
10
76
M56
16
270~290
75~90






View production videos about our marine fenders:






View testing videos about our rubber fenders:
Armored Floating Hose Pressure Testing
Super Cell Rubber Fender Compress Testing
Cylindrical Rubber Fender Compress Testing