BASIC INFO Production Testing Packaging Cases
Advantages:
1. GD type rubber fender(Wing Rubber Fender) is a new type of fender on the basis of D type fender innovation. GD type fender enlarges fender bottom width and pre-built-in steel plate mount; it can be fixed with double bolts, and the strength of installation and utility life is much more improved than D type fender.
2. Higher reaction force and energy absorption than D type fender.
3. It applies to frame style docks with easy installation and repair.
View videos about our marine rubber fender production:

Application:
1. High suitable for the large wharf
2. Rubber fender is a kind of protection facility suitable to be installed on the wharf.
It can be absorbed the energy upon ship alongside and reducing the impact strength to ensure the structure of vessel and wharf harmless.
3. Rubber fenders are the simplest and most appropriate solution for a wide range of applications in areas used as wharf moorage, guaranteeing long lasting performance and requiring no maintenance.
Their innovative design assures high performance, fast and easy moorage, and maximum ship stability even in situations of extreme stress, thanks to the vulcanized steel plates placed on the base and completely covered with rubber.
Specifications: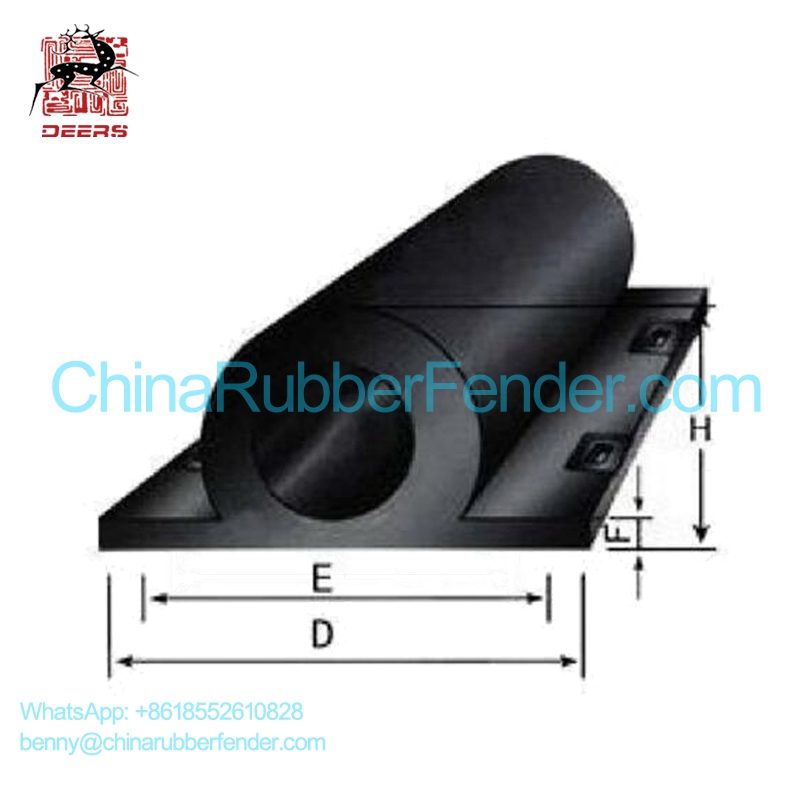 | | | | | | | | |
| --- | --- | --- | --- | --- | --- | --- | --- |
| Model | D(mm) | E(mm) | F(mm) | H(mm) | M(mm) | I(mm) | J(mm) |
| GD280Hx1000L | 540 | 430 | 40 | 280 | M30 | 40 | 300 |
| GD280Hx1500L | 540 | 430 | 40 | 280 | M30 | 40 | 300 |
| GD280Hx2000L | 540 | 430 | 40 | 280 | M30 | 40 | 300 |
| GD280Hx2500L | 540 | 430 | 40 | 280 | M30 | 40 | 300 |
| GD280Hx3000L | 540 | 430 | 40 | 280 | M30 | 40 | 300 |
| GD300Hx1000L | 600 | 490 | 40 | 300 | M36 | 40 | 360 |
| GD300Hx1500L | 600 | 490 | 40 | 300 | M36 | 40 | 360 |
| GD300Hx2000L | 600 | 490 | 40 | 300 | M36 | 40 | 360 |
| GD300Hx2500L | 600 | 490 | 40 | 300 | M36 | 40 | 360 |
| GD300Hx3000L | 600 | 490 | 40 | 300 | M36 | 40 | 360 |
Installation:
Rated deflection50%
Model
Reaction force(KN)
Energy absorbtion(KN-M)
GD280Hx1000L
375
14
GD280Hx1500L
565
21
GD280Hx2000L
750
28
GD280Hx2500L
940
35
GD280Hx3000L
1130
42
GD300Hx1000L
450
18
GD300Hx1500L
675
27
GD300Hx2000L
900
36
GD300Hx2500L
1125
45
GD300Hx3000L
1350
54






View production videos about our marine fenders:






View testing videos about our rubber fenders:
Armored Floating Hose Pressure Testing
Super Cell Rubber Fender Compress Testing