BASIC INFO Production Testing Packaging Cases
Rubber ladder has the function of both fender and ladder. It has the same installation of holes pitch with arch fender and can be replaced by each other. Easy for installation and maintenance with a long service life.
View videos about our marine rubber fender production:

Application:
1. It is a kind of protection facility. It can absorb the energy while ship alongside.
2. It is also can be used as a ladder for maintenace of fenders and docks.
Specifications: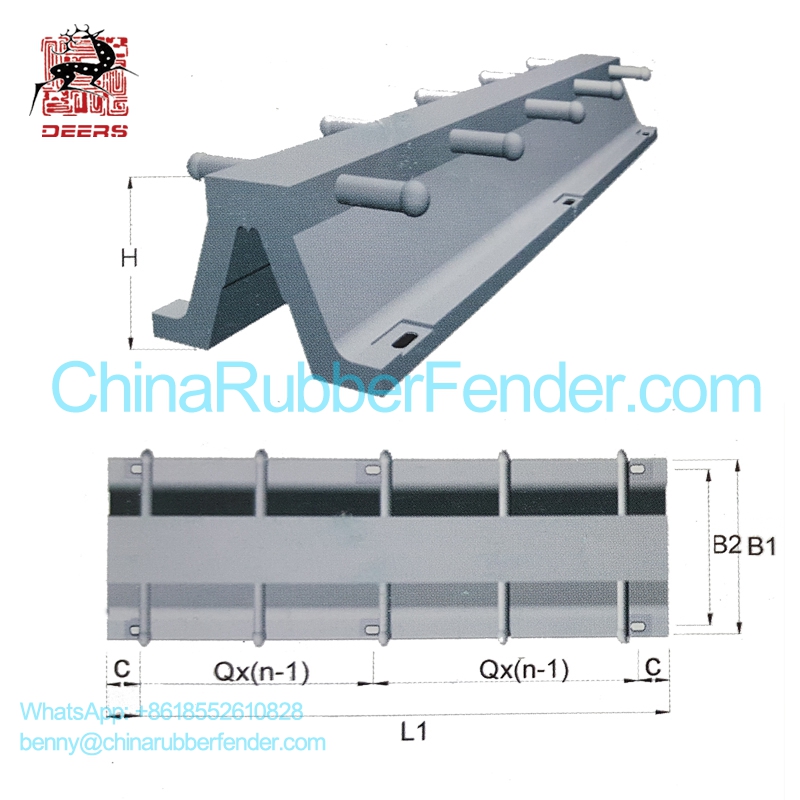 Model
L1
L
Q
C
B1
B2
H
J
K
N
(MM)
(MM)
(MM)
(MM)
(MM)
(MM)
(MM)
(MM)
type
Fastening Points
H200ⅹ1500
1500
1500
650
100
400
320
200
270
M24
3
H200ⅹ1800
1800
1800
800
100
400
320
200
270
M24
3
H200ⅹ2100
2100
2100
750
100
400
320
200
270
M24
4
H200ⅹ2400
2400
2400
850
100
400
320
200
270
M24
4
H200ⅹ2700
2700
2700
850
100
400
320
200
270
M24
4
H200ⅹ3000
3000
3000
700
100
400
320
200
270
M24
5
H300ⅹ1000
1150
1000
870
140
600
490
300
300
M30
2
H300ⅹ1500
1650
1500
685
140
600
490
300
300
M30
3
H300ⅹ2000
2150
2000
625
140
600
490
300
300
M30
4
H300ⅹ2500
2650
2500
790
140
600
490
300
300
M30
4
H300ⅹ3000
3150
3000
725
140
600
490
300
300
M30
5
H300ⅹ3500
3650
3500
674
140
600
490
400
300
M30
6
H400ⅹ1000
1200
1000
900
150
800
670
400
360
M36
2
H400ⅹ1500
1700
1500
700
150
800
670
400
360
M36
3
H400ⅹ2000
2200
2000
635
150
800
670
400
360
M36
4
H400ⅹ2500
2700
2500
800
150
800
670
400
360
M36
4
H400ⅹ3000
3200
3000
725
150
800
670
400
360
M36
5
H400ⅹ3500
3700
3500
680
150
800
670
400
360
M36
6






View production videos about our marine fenders:






View testing videos about our rubber fenders:
Armored Floating Hose Pressure Testing
Super Cell Rubber Fender Compress Testing