BASIC INFO Production Testing Packaging Cases
ChinaRubberFender.com can provide large-scale I type rubber fender (Leg/MV Fender), it is very suitable to different kinds of wharf.
Advantages:
1. Larger rated compression, higher energy absorption. Fender energy absorption raises 10% or so than super arch type rubber fender.
2. With flexible fender installation, it can adopt latitudinal, longitudinal and combined styles, etc. It can meet the requirements of different docks.
3. Front panel set in front of fender, it can lower the surface pressure of vessel side board.
4. UHMW-PE set in front of panel, it can decrease friction coefficient between vessel and fender, lower the shear strength while vessels berthing and raise fender life.
5. After fender adopts combined style, slant compression performance changes very little.
View videos about our marine rubber fender:

Specifications: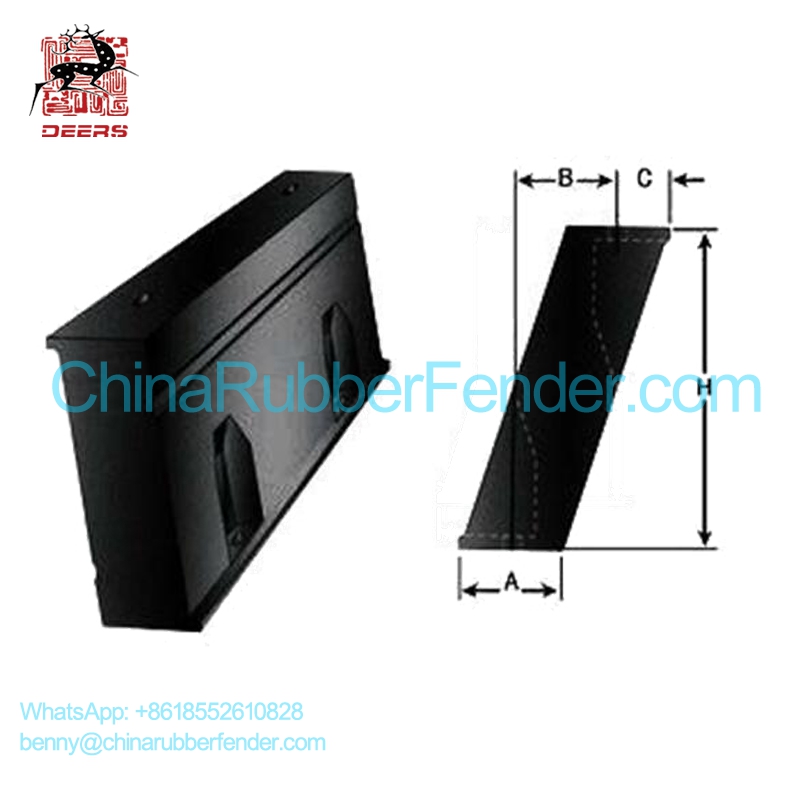 | | | | | |
| --- | --- | --- | --- | --- |
| Model | H | A | B | C |
| I300H | 300 | 94 | 94 | 47 |
| I400H | 400 | 125 | 124 | 63 |
| I500H | 500 | 158 | 158 | 87 |
| I550H | 550 | 172 | 170 | 87 |
| I600H | 600 | 188 | 199 | 87 |
| I750H | 750 | 235 | 230 | 118 |
| I800H | 800 | 250 | 240 | 129 |
| I1000H | 1000 | 322 | 310 | 162 |
| I1250H | 1250 | 451 | 388 | 202 |
| I1400H | 1400 | 454 | 454 | 228 |
| I1600H | 1600 | 500 | 480 | 257 |
Performance list:
specification
High reaction force
Standard reaction force
(KN)                         (KN-M)
(KN)
(KN)
I300H
160
22
110
15
I400H
210
39
150
27
I500H
265
61
187
43
I550H
294
75
206
52
I600H
320
89
224
62
I750H
400
137
282
96
I800H
428
157
299
110
I1000H
535
245
374
172
I1250H
668
383
467
268
I1400H
775
516
543
361
I1600H
855
628
599
440









View production videos about our marine fenders:






View testing videos about our rubber fenders:
Armored Floating Hose Pressure Testing
Super Cell Rubber Fender Compress Testing